A heartwarming story of a birthday bouquet being presented to a Beverley centenarian has been shared by her grateful ex-neighbour.
Flowers were delivered to Gladys Duffill for her 103rd birthday by a Beverley councillor, on behalf of her former neighbours now living in Cheshire.
David Butterfield and his wife Christine had met Mrs Duffill and her husband Gerald in 1976, after moving next door as newlyweds.
"This heralded the start of a 42-year relationship with a wonderful couple who helped us through those difficult, early years of marriage," says Mr Butterfield.
"Gladys and Gerald were stalwarts of an almost forgotten era, when compared to today's climate of work-life balance and social media intrusion."
The two couples kept in touch after the Butterfields moved away but when Mrs Duffill's phone number was no longer available a few years ago they feared the worst.
Mr Butterfield asked former work colleague Denis Healy, now a Beverley councillor, if he could find Mrs Duffill. Cllr Healy knocked on doors in Cherry Tree Lane, where the now widowed Mrs Duffill had lived, and found she was now in Figham House care home. On her birthday, Cllr Healy was called back into action to deliver flowers on behalf of the Butterfields.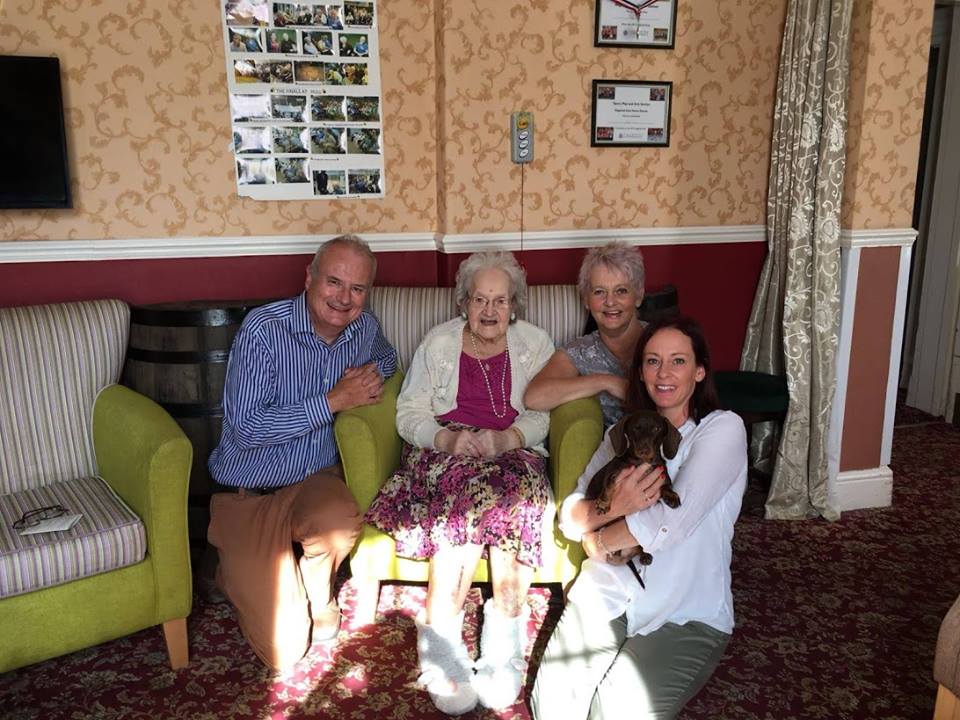 Pictured: Pictured are Cllr Healy, Gladys Duffill, her daughter Ann and granddaughter Sally.
Mr Butterfield says: "Figham House is now only the second address where Gladys would reside since her marriage to beloved Gerald. And what a fabulous place it is. Defying all that's wrong with some modern-day aspects of social support and care home provision, the staff at Figham House have taken to Gladys in exactly the same way my wife and I did all those years before.
Cllr Healy was back again at the weekend to visit Gladys and present our flowers in this delightful setting, alongside daughter Ann and granddaughter Sally with dachshund Harry, to celebrate her 103rd birthday."
Cllr Healy says: "Gladys is in really good form. I don't know if she's the oldest resident in Beverley but she's doing really well in the care of the staff at Figham House. The care profession is often forgotten but the people work so hard. Having a place like that in Beverley is a credit to the staff in there."